Radiesse Northern Virginia
It can be baffling for some to make sense of the fact that a treatment often used to give our faces a boost of volume can also help our hands look younger as well. Fortunately, Radiesse in Northern Virginia is one of the few products available that has that ability.
Read more below for the ultimate guide to Radiesse for hand and facial rejuvenation.
What is Radiesse?
Radiesse in Northern Virginia is an injectable cosmetic treatment that is used to add volume to targeted areas under your skin.
This amazing product works one step farther to stimulate collagen growth in your skin in order to address future wrinkles.
Radiesse for Hands
The hands often go unrecognized as one of the first places where women begin to see the visible signs of aging.
With the introduction of Radiesse for the hands, came swarms of women who were excited for an opportunity to turn back time on one of the most visible areas of their bodies.
Radiesse for the Face
Radiesse in Northern Virginia is famously known as an excellent dermal filler to add volume to areas of the face where it has been lost.
Generally, most people receive these injections in the wrinkles and folds surrounding the mouth and nose.
Is Radiesse Safe?
Radiesse has been cleared by the FDA as safe for use as a nontoxic and hypoallergenic product option.
However, as with any treatment there may be some side effects.
Some side effects associated with Radiesse include redness, bruising, swelling, itching, and pain at the injection site.
Radiesse Results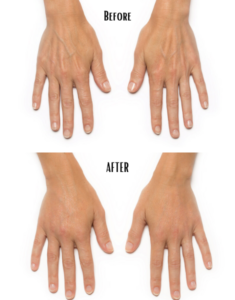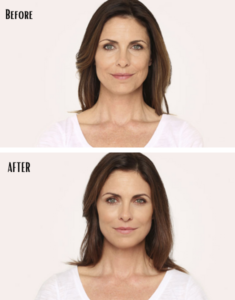 Learn More About Radiesse in Northern Virginia
If you are interested in seeing if Radiesse in Northern Virginia is a good fit for your cosmetic needs, the skin care experts at Integrated Dermatology of Reston are here to help.
This lunchtime treatment is quick, easy, and performed by our team of expert injectors, just for you.
To schedule an in-person or virtual consultation, call (703) 437-7744 or contact our office online now.