Perfect 10 Peel Reston
Are you looking for a way to revitalize your skin, without lasers or surgery? Try Perfect 10 Peel in Reston, VA!
This medical-grade peel is unlike any others that you may have tried before. It uses a proprietary formulation of exfoliants and nutrients to achieve superior results and is customized to each individual's skincare needs and goals.
If you would like to learn more about achieving a clearer, smoother, and more even complexion with Perfect 10 Peel in Reston, VA, read on.
What is Perfect 10 Peel?
Perfect 10 Peel Reston is a noninvasive and nonsurgical skincare solution that exfoliates skin with a unique blend of peeling agents, including salicylic acid, resorcinol, lactic acid, glycolic acid, pyruvic acid, tartaric acid, and mandelic acid.
This mixture produces optimal exfoliation for refreshed and radiant skin.
Who's It For and What Can It Treat?
Perfect 10 Peel is an excellent option for women and men, of all skin types, who would like to correct existing complexion concerns and prevent future damage.
More specifically, it can address discoloration, enlarged pores, roughness, sun spots, photodamage, fine lines, wrinkles, tone and texture irregularities.
What Are the 3 Strengths of Perfect 10 Peel?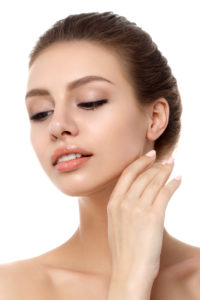 There are three strengths of the Perfect 10 Peel in Reston, VA – Intermediate, Advanced, and Universal.
Intermediate Perfect 10 Peel is ideal for patients who are new to this skincare solution, but have undergone salicylic or glycolic peels in the past. It's a safe and effective option for sensitive, normal, and tolerant skin types.
Advanced Perfect 10 Peel is recommended for individuals that have tolerant skin and are classified as Type I, II, or III according to the Fitzpatrick scale.
Universal Perfect 10 Peel is designed for all skin types, including sensitive, normal, and tolerant. This option is also safe for patients with darker skin tones, classified as Fitzpatrick IV, V, and VI.
How is Perfect 10 Peel Performed?
Perfect 10 Peel is performed as a two-step process.
First, a chemical peel is applied to the skin in order to achieve thorough exfoliation. This includes removing dead skin cells and unclogging pores.
Next, healing agents are delivered to the skin to target specific concerns.
Post-treatment, patients may experience mild and temporary redness and tenderness. However, Perfect 10 Peel requires zero downtime, and you are free to resume normal activities right away.
How Many Treatments Are Recommended?
Most individuals benefit from a series of two or more Perfect 10 Peels, which should be scheduled at least 1 month apart.
Learn More About Perfect 10 Peel
If you would like to learn more about Perfect 10 Peel in Reston, VA, please contact our office today to schedule a consultation with board-certified dermatologist Dr. Morgana Colombo.