PRP Northern Virginia
PRP (platelet-rich plasma) is an excellent hair loss therapy for women in Northern Virginia and doesn't require incisions or recovery.
Have you noticed your hair becoming thinner just like one of your parents? Are you struggling with hair loss due to pregnancy, menopause, stress, or another medical condition?
If you answered yes, then you are not alone. Millions of women suffer from hair loss, but only a small fraction (approximately 5%) are good candidates for hair transplant surgery.
Continue reading to learn all about PRP in Northern Virginia, the procedure and its benefits.
What is Hair Loss Therapy for Women?
PRP is a natural and non-surgical hair loss therapy for women. The procedure is performed in the comfort of our office and takes approximately 1 hour.
During this time, blood is drawn from the patient and placed in a centrifuge to separate platelet-rich plasma (PRP) from red blood cells and platelet-poor plasma.
PRP is then placed in a syringe, along with other nutrients, and injected into the scalp in a grid-like fashion.
Subsequently, PRP's growth factors are able to activate dormant hair follicles and increase the anagen (active) stage of the growth cycle.
Why Should Women Consider PRP for Hair Loss?
If you are looking for a safe and effective hair loss therapy for women, you should consider PRP.
To start, it's an ideal alternative to hair-transplant surgery for patients who wish to avoid or are not candidates for surgery.
Additionally, PRP hair restoration relies on platelets harvested from the patient's blood and the body's natural healing mechanisms.
In comparison, many conventional hair loss products and procedures contain potentially-harmful ingredients.
Best of all, PRP for hair loss is especially well-suited for female patients. That's because they tend to have more inflammatory cells around hair follicles than men.
How Many PRP Treatments Are Recommended?
In order to achieve optimal hair restoration, most patients require 2-3 PRP treatments, scheduled one month apart.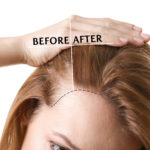 Individuals interested in hair loss therapy for women should seek treatment as soon as they notice thinning for best results.
Interested in Hair Loss Therapy for Women?
If you are considering PRP in Northern Virginia for hair restoration, please contact our office today to schedule a comprehensive consultation with board-certified dermatologist Dr. Morgana Colombo.